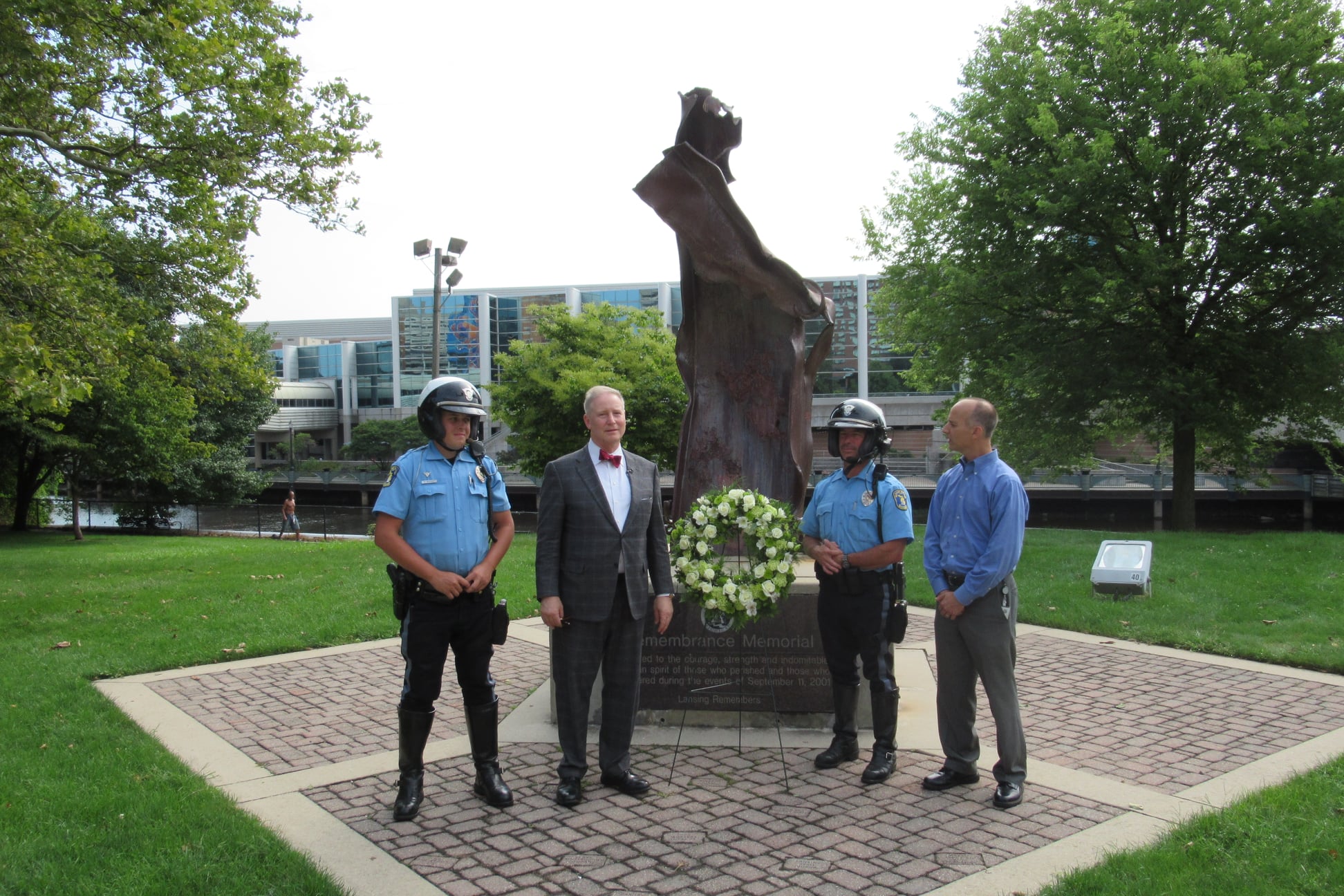 World Trade Center Survivor Patrick Anderson Joined by Lansing Mayor Andy Schor in Placing Wreath at Wentworth Park Memorial
EAST LANSING, Mich. — August 30, 2021
Patrick L. Anderson, WTC survivor and founder of the Michigan Remembers 9-11 Fund, was joined by uniformed police officers and Lansing Mayor Andy Schor yesterday in placing a memorial wreath at Wentworth Park's steel beam monument. The occasion was, as always, one of solemnity and reflection for Mr. Anderson.
Looking back on that day with the perspective of these elapsed 20 years, memories of that day have softened for many who are old enough to have watched it unfold. The edges, however, remain as sharp and jarring as ever for survivors and for those who lost loved ones to the flames and rubble. Michigan Remembers 9-11 maintains a list and brief bios of those lost from our state.
Members of the media and the public who would like to join Mr. Anderson in remembering the events of that day and reflecting upon our country's resilience in the aftermath are invited to attend a special ceremony on Saturday, September 11, 2021. The noon event will be held at the Wayne County First Responders Memorial on Edward N. Hines Drive (Hines Park) in Plymouth Township.
About the Michigan Remembers 9-11 Fund
The Michigan Remembers 9-11 Fund was founded in 2006 by Patrick Anderson, who was inside the World Trade Center when the first plane hit. Mr. Anderson is principal and CEO of East Lansing-based Anderson Economic Group, LLC. He founded the Fund to ensure that future generations remember September 11, 2001 as a day of loss and tragedy, but also one of heroism and sacrifice. We solemnly remember those who lost their lives on 9/11/01, and celebrate the brave men and women across Michigan who protect and serve America's communities.