EAST LANSING, Sept. 9, 2023 - Most Americans know the name Todd Beamer, the 9/11 hero who famously said "Let's roll" before preventing the terrorists aboard United Flight 93 from completing their attack on that fateful day. In the struggle, the flight crashed over a Pennsylvania field. While we grieve the loss of life, we honor Beamer and his fellow passengers today. Their heroism prevented that plane from crashing into its Washington, D.C. target and killing many more people.
Many are not aware that Beamer was a Flint native. Michigan Remembers looks back today at the Michigan roots of this man who gave everything to protect his country, and solemnly remembers each of the 42 Michigan victims of 9/11 who perished in the 9/11 attacks. Their profiles can be found at michiganremembers.org, and we hope you, too, will take a moment to reflect on their lives and their sacrifice on this 22nd anniversary.
"It has been our mission to recognize every person from Michigan who lost their lives on September 11, 2001,'' said Patrick L. Anderson, one of the founders of the Michigan Remembers 9/11 Fund and a survivor of the New York City attacks. "We intend to make sure their names and their stories are not forgotten, no matter how many years pass."
Anderson is known as the principal and CEO of the Anderson Economic Group in East Lansing, but he was also staying in the World Trade Center Marriott for a conference that day. His story was featured on the national PBS series "We'll Meet Again' in 2018.
The Michigan Remembers 9/11 Fund is a 501(c)(3) charity and its efforts are entirely supported by private donations. The Fund has previously sponsored "Run to Remember" events, high school essay contests, and travel for Michigan's first responders to the World Trade Center for 9/11 events.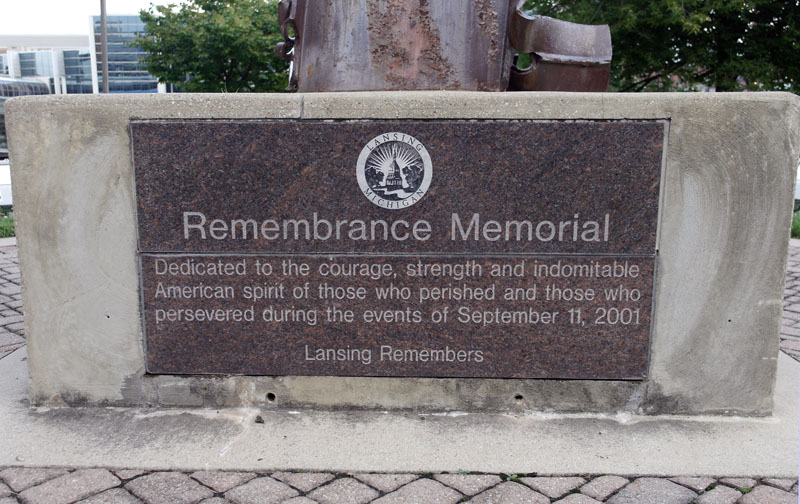 Every year, the City of Lansing hosts an event to honor and remember those who lost their lives, the families, and the survivors of September 11, 2001, at Wentworth Park in downtown Lansing.
More details: lansingmi.gov
September 8 through September 11 the Lansing Veterans Council and local veteran groups will be conducting a 9-11 remembrance display. The "A Day to Remember" memorial field will be displayed at Evergreen Cemetery in Lansing.
More details: Fox47 News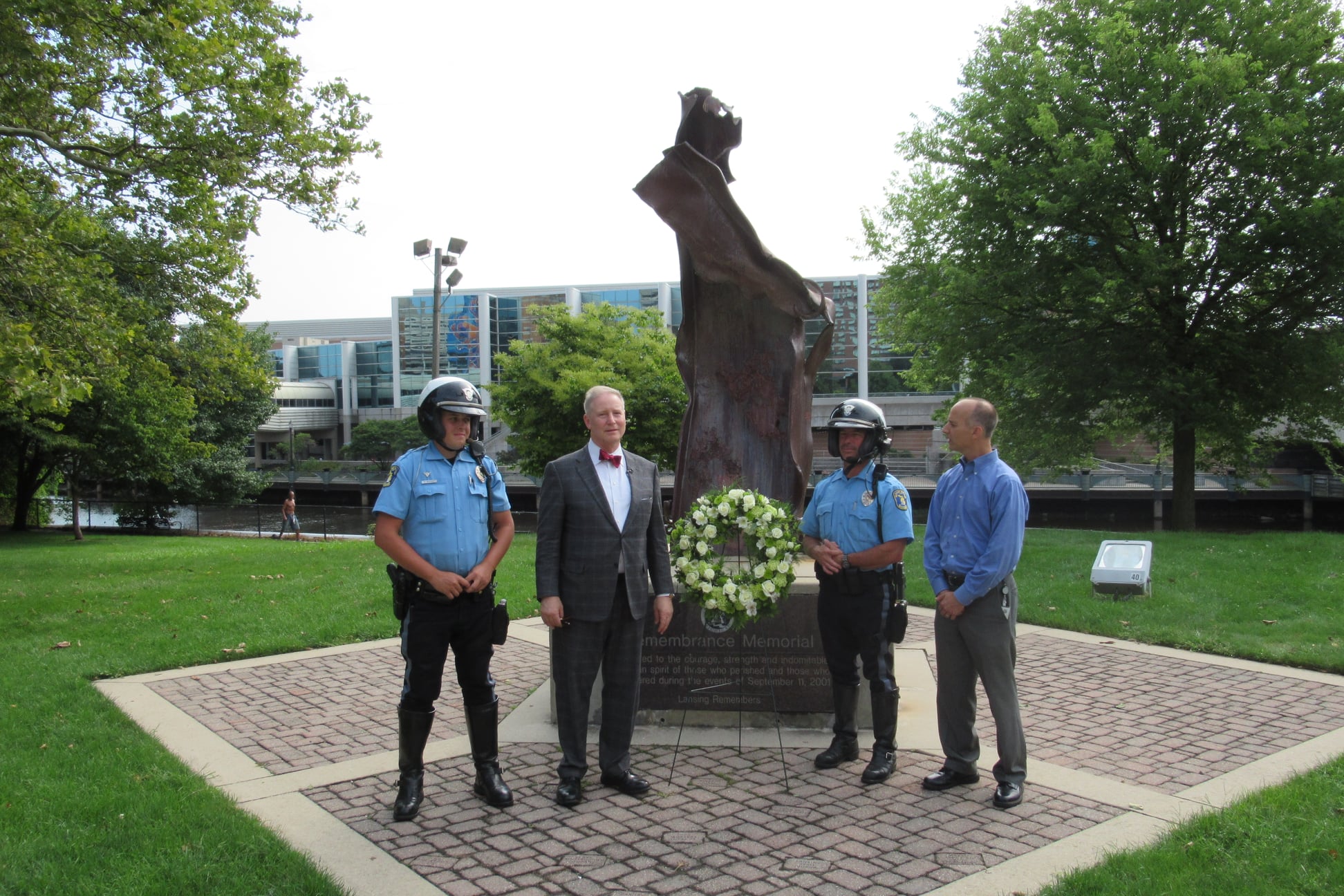 World Trade Center Survivor Patrick Anderson Joined by Lansing Mayor Andy Schor in Placing Wreath at Wentworth Park Memorial
EAST LANSING, Mich. — August 30, 2021
Patrick L. Anderson, WTC survivor and founder of the Michigan Remembers 9-11 Fund, was joined by uniformed police officers and Lansing Mayor Andy Schor yesterday in placing a memorial wreath at Wentworth Park's steel beam monument. The occasion was, as always, one of solemnity and reflection for Mr. Anderson.
Looking back on that day with the perspective of these elapsed 20 years, memories of that day have softened for many who are old enough to have watched it unfold. The edges, however, remain as sharp and jarring as ever for survivors and for those who lost loved ones to the flames and rubble. Michigan Remembers 9-11 maintains a list and brief bios of those lost from our state.